Hello Friends of TrulyRichPinoy.com! Just wanted to wish you a Prosperous 2015! Here's why I subscribe to the Truly Rich Club of Bo Sanchez.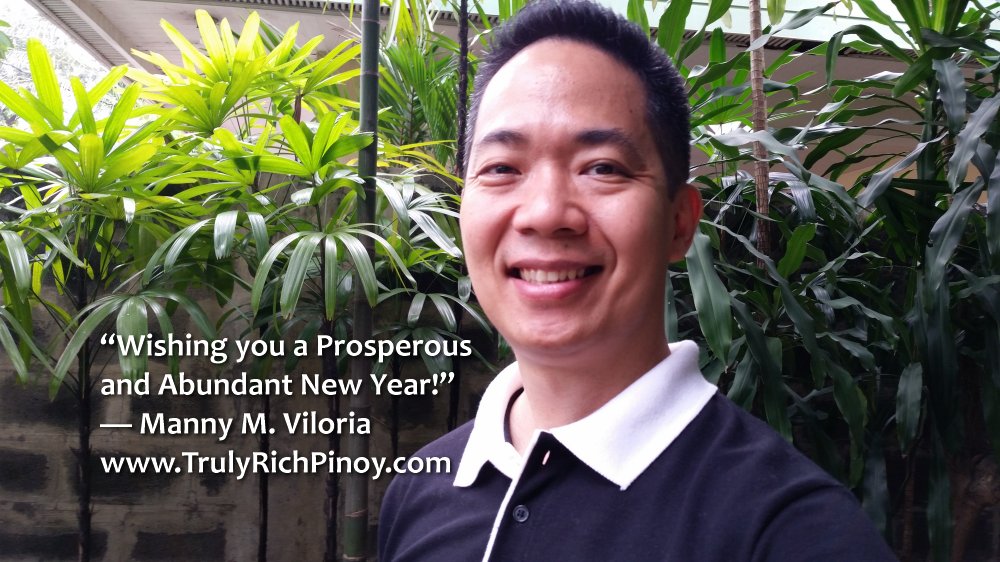 1. We save time, because of the easy-to-read table. We look at it once a month when deciding which stock to buy.
Here's a sample table. On the rightmost column we see the action to take: Sell, Hold (Wait), Buy. So easy and simple!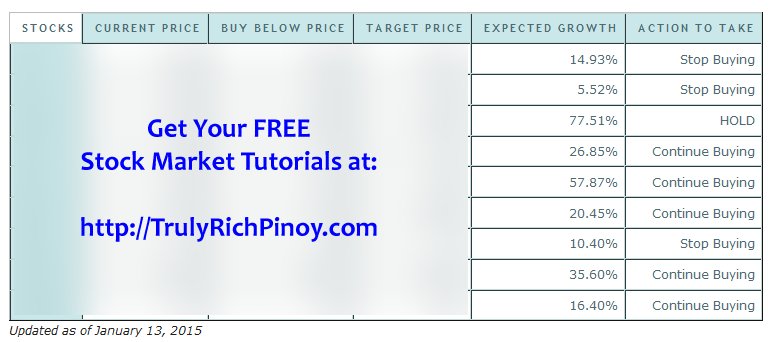 No need to always be online.
No need to monitor the stock market daily.
Just once a month is all it takes.
2. We appreciate the Stock Sell Alerts which are sent via email.
These emails appear in our smartphone, so we know right away when a stock is approaching its Target Selling Price... even if we don't watch the stock market everyday.
3. We like supporting Bo Sanchez, because he supports the Anawim Community for senior citizens.
Yes, we can simply keep the money in our pocket and do the research ourselves in the COL Financial website. Now since we appreciate receiving the insight from the team in the Truly Rich Club, as well as having free time to spend with our loved ones, the thought that part of the TRC subscription goes to the maintenance of the Anawim Community is a big plus.
Habang natututo tayong mag stock market,
may natutulungan din tayong bahagi ng ating lipunan.
4. TRC helps us explain the stock market to our children.
The concepts taught by Bo Sanchez are easy to understand. This makes the info also easy to teach.
And by teaching our children at an early age about the importance of investing in the stock market, we are able to help them prepare early for their financial future.
Remember, the main thing that will help your funds grow is TIME.
So the earlier we start, the better.
5. The info in the Truly Rich Club helps us grow.
So far, we've seen a growth of around 18 to 21 percent.
We're not saying that this is guaranteed. Returns will change from year to year, and we are aware of that.
We could've simply placed our money in a Mutual Fund (Equity) and let the fund managers handle everything. Subscribing to TRC has helped us learn more, and somehow earn as much as we would have if we had used a Mutual Fund.
Plus, the TRC info isn't only about money or the stock market. There are articles about spiritual growth as well.
6. TRC has helped us expand our network of contacts.
It's wonderful when you meet like-minded people who value financial literacy, community, and service.
You'll be amazed when you meet people who are also fans of Bo Sanchez, or who appreciate the tips and lessons inside the Truly Rich Club community.
With TRC, you're not just investing in the stock market on your own. You connect with others, too.
7. TRC has an affiliate program that helps you add to your stock market funds without touching your salary.
We appreciate the generous affiliate marketing program of Bo Sanchez, where you can earn referral commissions. You can place these commissions in the stock market and grow your portfolio.
That's one smart way of using passive income to help you prepare for your future financially.
So again, here's wishing your a Prosperous and Abundant 2015! 🙂
Keep on reading and learning, as we journey towards higher levels of financial literacy, success, and personal development.
Click This: Join the Truly Rich Club
All the best,
Manny M. Viloria